Mazmanian Patrice was born in Marseille in 1956. He studied music theory, harmony, piano and jazz at the conservatory of Marseille. He is a keyboardist, arranger, composer, sound designer, and sound engineer. He is also keen on vintage instruments like Fender Rhodes, Hammond Organ, Moog synthesizer, Oberheim...

He had lived in Marseille until 1982 where he created many original scores for sound illustration and the company Richard Martin Toursky theater.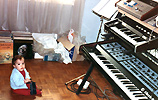 He has worked with him on many projects including two of the original texts of Leo Ferre (La Methode and Alma Matrix). On this occasion, he participated in the "Festival de la Francophonie" in Quebec City in 1980..

Influenced by funk and jazz 70s (Joe Zawinul, Herbie Hancock, Miles Davis ...), he played his own music in the jazz clubs of Marseille. This allowed him to "jam" with personalities such as Eddie Louiss, Paco Seri, Richard Galliano...
In 1981 he played keyboards on the Jacques Loussier Album "Pagan Moon". Then music for several films ensued, plus some live concerts in England.

He settled in Paris in 1983 and became the accompanist of Franck Fernandel, Dalida, Régine, Marcel Amont , Patrick Sébastien. He performed with many other artists during entertainment programs like "Sébastien c'est fou", "Super Nana" or "Garçon, la suite". He has also created numerous scores for these broadcasts...

He participated in the realization of the 3rd album of "Trio Esperança", working with Danny Mauro, Frédéric Lebon both imitators and talented comedians.
He has realized some playbacks for the Star Academy Chanson N1 and over forty playbacks for the singer Philippe Callens who masterfully interprets the repertoire of Jacques Brel. He has created music for the film and audiovisual industry, working for ECPAD

(Ministry of the National Defence).
Now he continues to frequent jazz clubs in the Parisian district. You can listen to him with Jean Michel Hurey, Fabien Meissonier, Didier Forget, Jerome Larsonnier, Bruno Caviglia ... with whom he recorded the album "Strange Mood" co-directed with Claude Matringe bassist and longtime friend.